Liberate sales growth with a self-service customer portal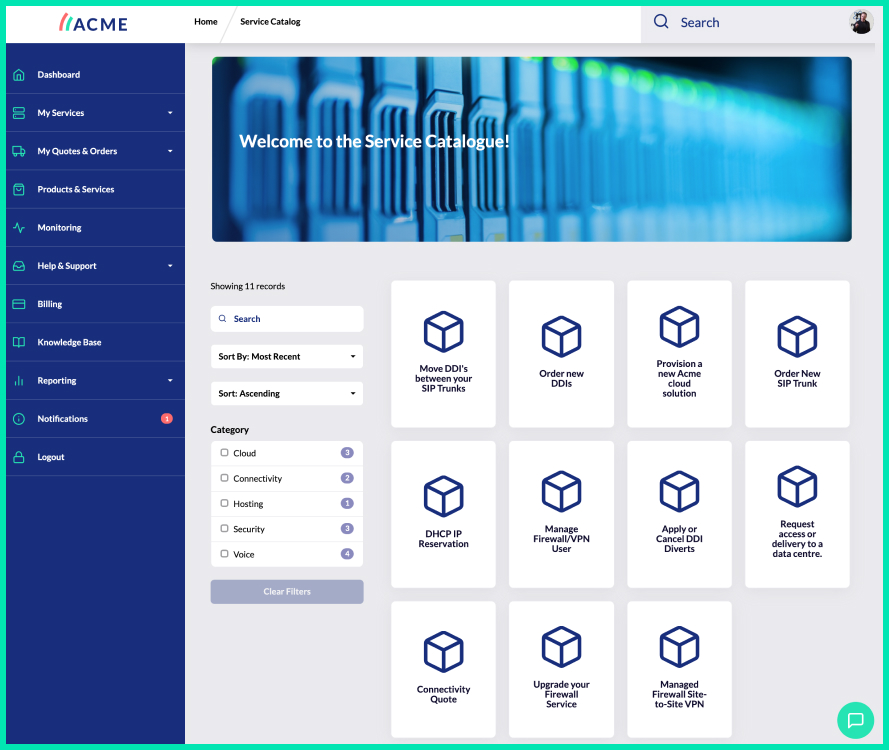 Fully customisable MSP ready portal
If like us, you believe a portal should be the central point for all interactions and the most efficient channel to deliver new revenue streams from upsell and cross sell opportunities, then working with POPX will deliver the results you're looking for.
Empowering your customers and partners in this way provides the highest levels of customer experience and is the most powerful way to surface your next level service automation improvements, direct to the people who matter most. It's time to give your customers the user experience they deserve. No transformation is complete unless it results in a direct improvement in how your customers engage with you, with transparency and self-service as corner stones to success.
Capability improvements
Give customers the user experience they deserve by improving efficiency & customer satisfaction.
Enable users to get answers to questions quickly from a variety of sources while reducing resolution time and manual errors.
Allow customers to create, view & manage all support cases & track the resolution process.
Display a full and complete view of a customer's services & their performance.
Allow customers full administration of their own account.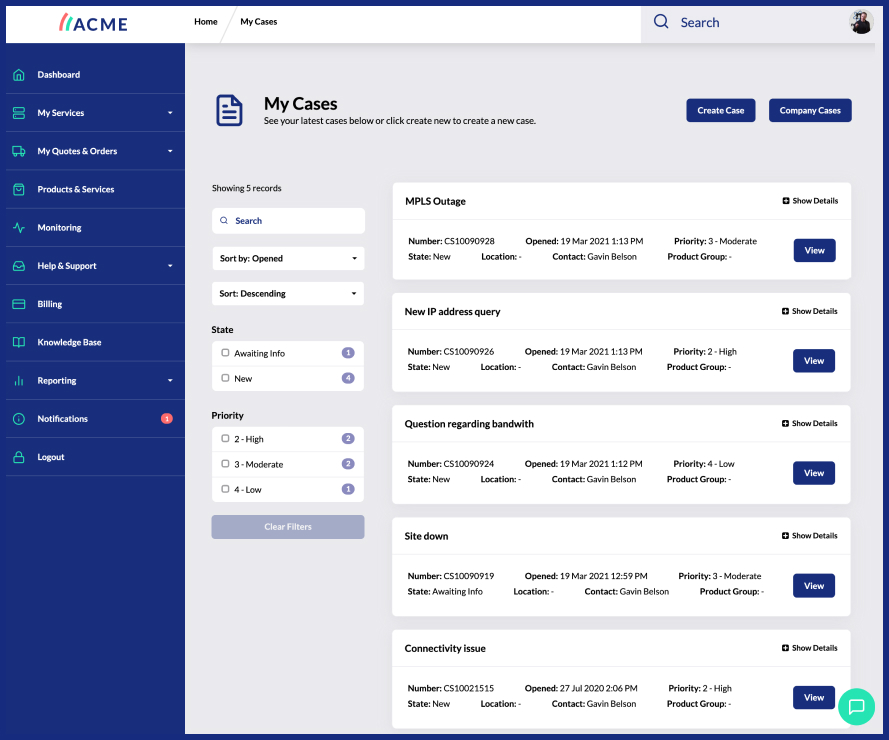 Give full transparency of procurement, provisioning, support & billing.
Provide real-time performance monitoring & access to reports.
Empower customers to quickly scale or update services & purchase new ones.
Personalise information to the user & use predictive analytics to suggest new upsell & cross sell services.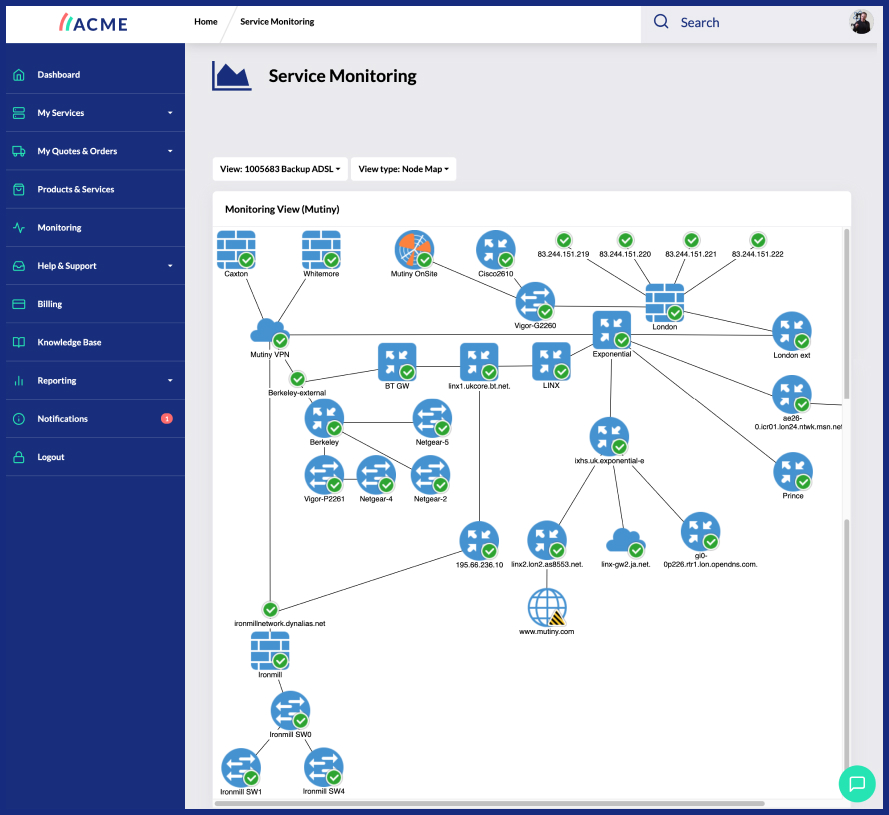 Billing
The single biggest frustration for MSP customers is a lack of transparency, especially in relation to their billing. Fixing this specific customer challenge will give you the single biggest differentiator against competitors and turn that frustration into loyal customers who are committed to your success.
Giving customers the access and control to manage their own account with full information at their fingertips helps improve your relationship with them, increases their trust in you and empowers them to buy more.
See full financial information relating to their account.

Stay in control of their financial relationship with you.

Know what services they are paying for & when.

Quickly view any outstanding fees & due date.

Securely make quick & easy online payments.

List all paid, part paid & unpaid invoices.

Export all records to Excel.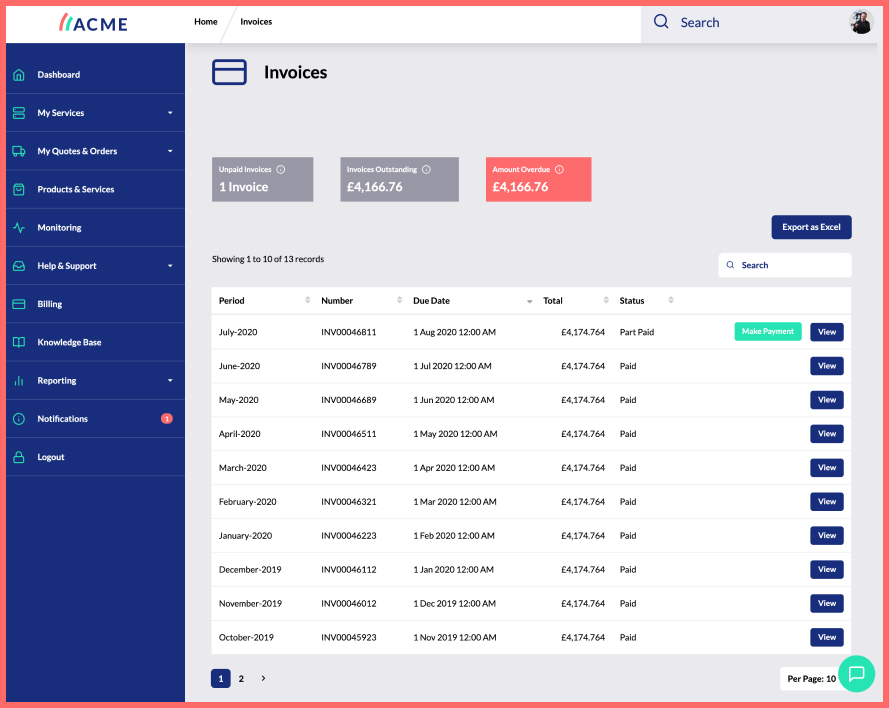 Service information
Give customers the ability to see all the products and services they buy from you in one place, by category and group by location. Includes information such as start date, end date, active/inactive, full description and the SLA. In addition, full details can be seen on all quotes and orders and the status of those orders.
Your complete service catalogue can be available for customers to browse, allowing them to view prices and easily make new orders and track them.
Fully manage their own estate through self-service options that put them in control.

Have full transparency of all their products & services, their status & performance.

Browse your full service catalogue, get prices & easily order new services.

Scale & update services, reducing the number of inbound change requests.

See a full history of all services purchased, quotes & orders.

Leverage the benefits of your automation efficiencies.

Track the status of any orders through provisioning.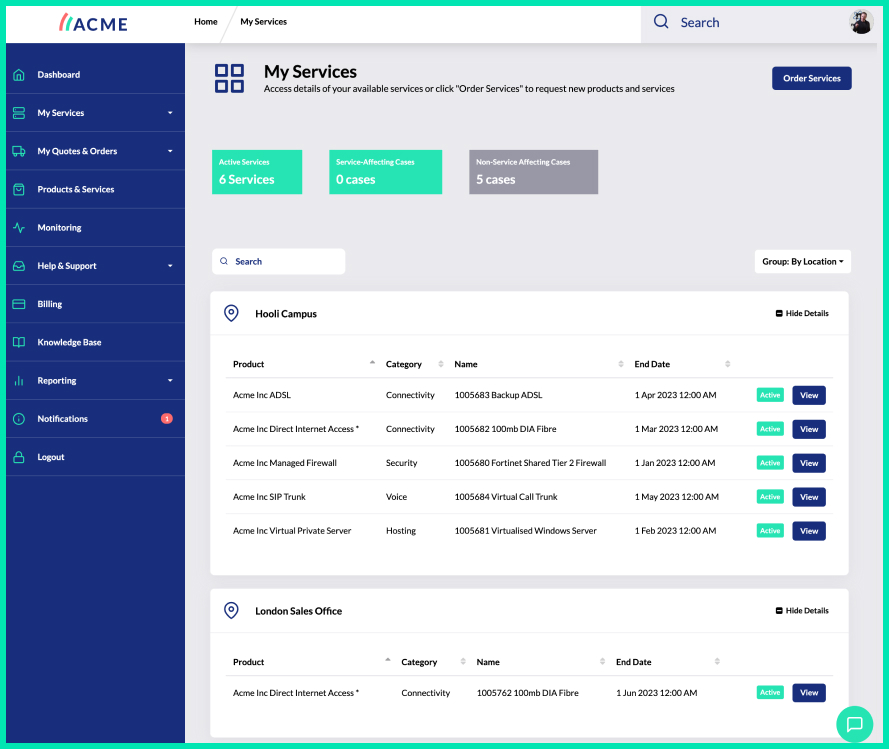 Help & support
Give customers the help and support they deserve quickly, efficiently and via multiple easy access channels. An interactive portal that responds appropriately to requests by presenting information or triggering a resolution quickly helps customers stay on track, saves time for everyone and reduces the burden on your support team. A knowledgebase with easy to use filters and categories helps users find what they are looking for.
Notifications advise customers of actions they need to fulfil, while support cases can be created, tracked and managed. Everything and more the customer needs to be productive in one place
Get the help, information & issue resolution they need quickly & efficiently.

Easily access multiple channels of help & support at their fingertips.

Access your knowledgebase with searchable filters & categories.

See all planned maintenance in a calendar format.

Be prompted by helpful notifications.

Fully manage all support cases.

Chat with an online agent.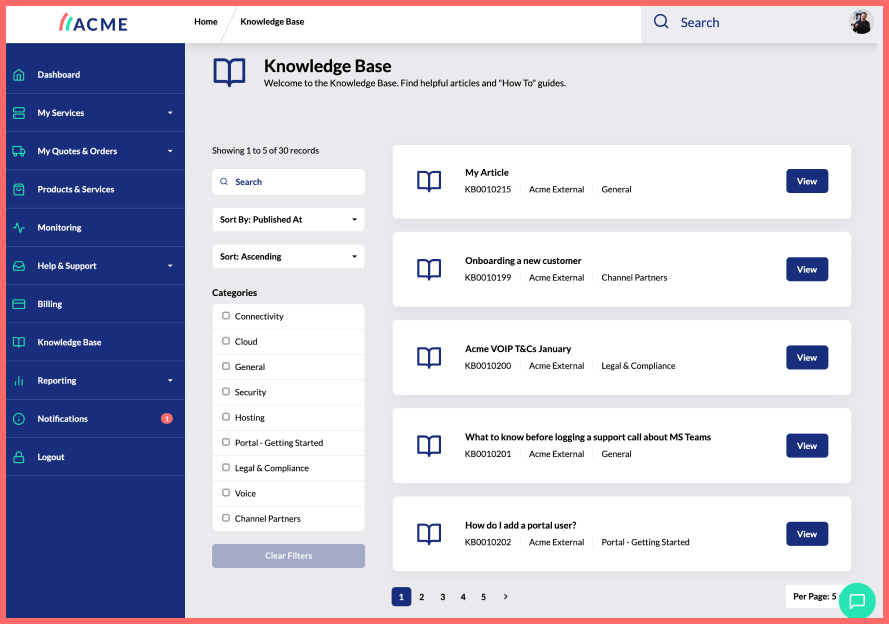 The complete MSP portal service
POPX has the MSP-ready portal you need to deliver the best customer experience, regardless of which technology choices you have made to run your operations.
What successful MSP portals do differently:
Integrate internal and supplier systems.
Automate tasks and processes so customers can self-serve.
Liberate sales growth opportunities.
We deliver success
With our background as MSP transformation experts, we fully understand what it takes and have the capability to deliver next level service automation via a fit-for-purpose and user-friendly customer portal.
We not only develop the portal but also ensure it has all the appropriate integrations to your existing internal and supplier systems. Then, we create and manage workflows to automate as many tasks and processes as possible, transforming your customer relationships with new levels of engagement that converts to increased loyalty and sales.
Fully managed service
We take care of everything for you, including the integrations and workflows required to run the most complete MSP portal that sets you apart from your competitors. By making customers feel they are in control of their relationship with you and are empowered to self-serve, see more and do more, you make it easy for them to buy more.
All integrations.

Service catalogue.

Design, branding, layout.

Workflow design, build & management.

Set-up of automated customer reports.

Fully managed service & ongoing maintenance.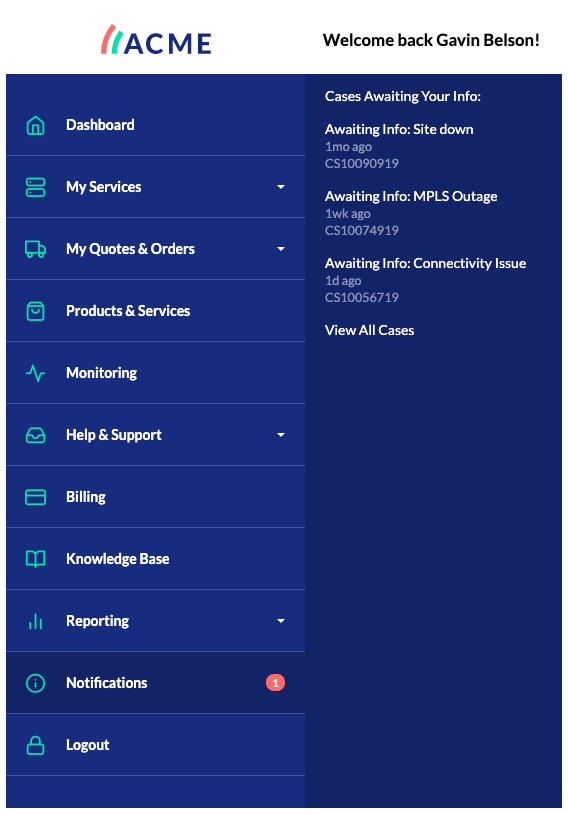 Talk to us to find out more about how we can help develop your Customer & Partner Portal