Why AIOps?
Artificial Intelligence for IT Operations (AIOps) is the use of artificial intelligence (AI) to manage the digital complexity of modern organisations. Modern IT complexity comes from:
Data volume, variety and speed of ingestion

Cloud and on-premises architecture

Virtualised and cloud-native applications

Containers and serverless computing
This complexity is further compounded because of siloed monitoring tools and the never-ending stream of events being directed at the operations teams in different formats.
AIOps represents a set of capabilities that helps you sort through this complexity, automate the analysis of symptoms and expedite the decision-making process to remediate a problem in your infrastructure, applications and services. AIOps can suggest certain tasks to automate by learning patterns from past remediation actions, further improving your operations team's effectiveness. AIOps becomes the necessary helper working for you in the background.
AIOps lets you remain in control of your operations, regardless of complexity. Using AIOps directly translates into improved customer satisfaction and increased revenue.
Achieving accurate service visibility
IT is challenged with being able to see the relationships between infrastructure and the services provided to the business. When problems strike, IT struggles to understand how the problem impacts the business, determining whether a single service or multiple services are affected, if the issue is in an on-premises data center or in the cloud, and what changes may have been made before the problem occurred.
To determine the impact of an IT problem or service degradation, one of the solutions has been to create maps of IT infrastructure to the related services. These service maps provide the visibility needed to understand the impact of change on infrastructure and services. However, these maps are often manually created, quickly out of date, prone to error, and costly.
Maintaining the accuracy of service maps is possible through automation. By using special software, IT infrastructure and its individual components can be automatically discovered and documented as configuration items (CIs) and stored in a Configuration Management Database (CMDB)
A CMDB brings a new level of order to a complex IT environment.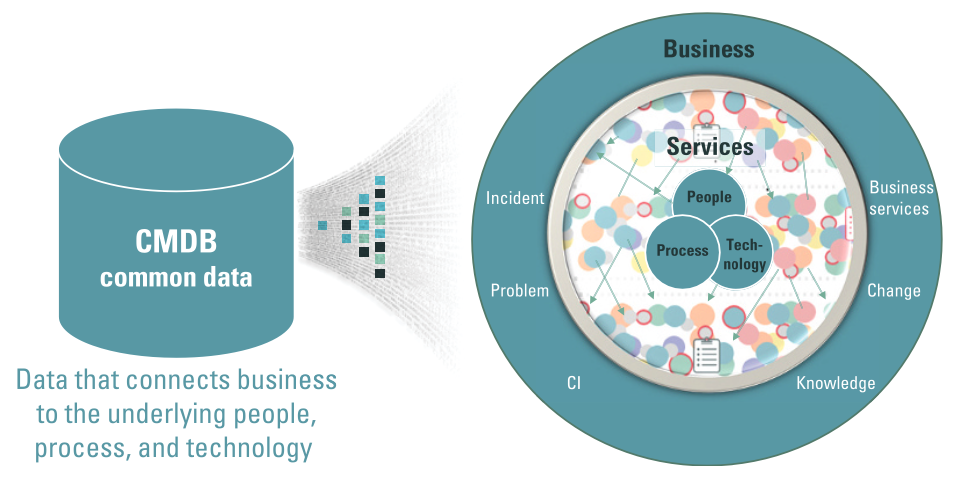 The creation and updating of service maps stored in a CMDB can be automated. Best of all, updates to the CMDB can be driven directly from changes occurring in cloud and microservices infrastructure. Armed with these powerful maps, IT is provided the visibility needed to accurately detect service issues, analyse the impact on your business, pinpoint root causes and fix the issues for good – in near real time.
Automating remediation
When service problems strike, IT is in a race against the clock to identify the source of the issue, the root cause, and apply a fix to restore the service to a healthy state. AIOps helps identify the suggested remediation to the problem and dramatically reduce the time it takes to restore service. An AIOps system can mine knowledge base articles, using natural language processing (NLP), to identify remediation recommendations for the same or similar alerts. In addition, AIOps can analyse past scenarios of successful remediation for similar situations and present the most relevant scenario to the operations team.
When enough confidence is determined, the AIOps system can trigger remediation automatically, relieving the operations team to address other priority issues.
Being able to correlate different types of records, such as events, changes, incidents, problems and bringing current ITOM and ITSM historical records together, enables you to overcome many of the difficulties associated with manual remediation, automating traditional steps in the process. An AIOps system can learn from this historical information and automatically suggest a remediation action, or even automate the remediation action without operator intervention.
Imagine a scenario where your order processing system performance has suddenly crashed to the point of being unusable because a storage disk is full. They systems impacted by this failure all start sending events to the operator. Before AIOps, discovering which of these events were critical and then researching the root cause and the methods of resolution was extremely time consuming, often involving reading many unrelated log files, knowledge base articles and manually correlating data from several monitoring applications. Now, an AIOps system can perform many of these steps in the background and present the outcome to operators. Resolutions are a click away or can even take place automatically.
Process improvements with AIOps.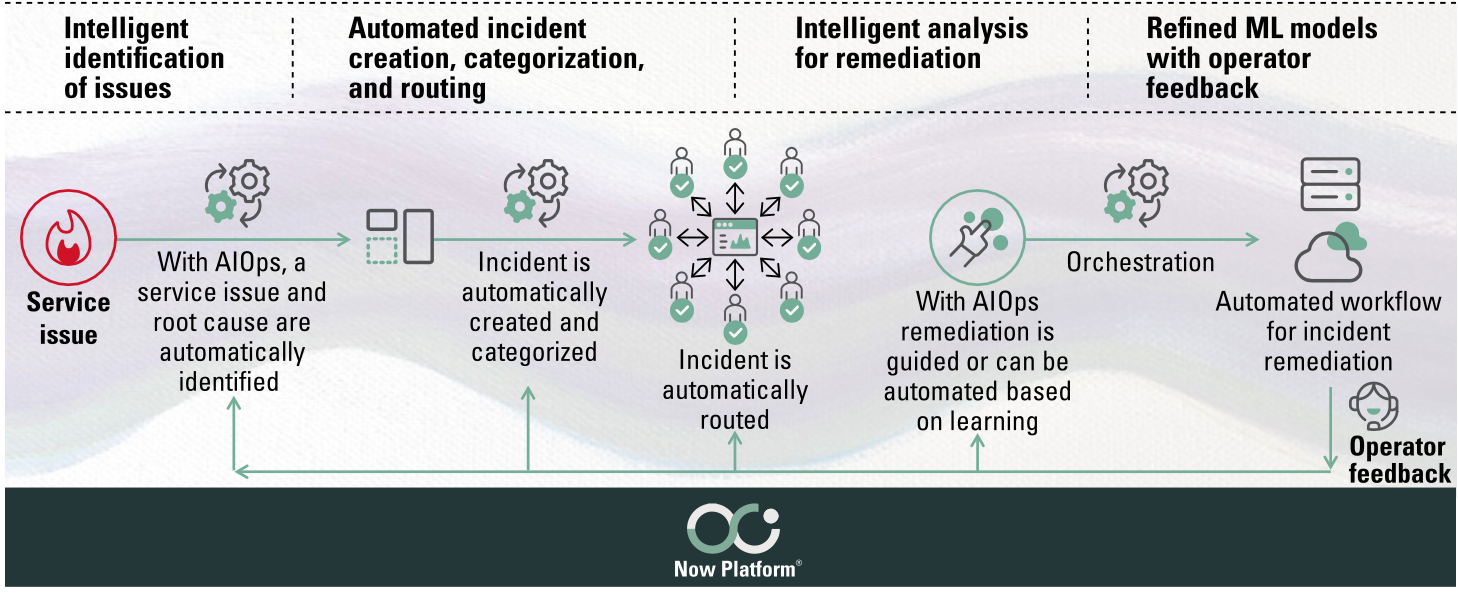 Greater IT cost savings
One of the cost justifications for AIOps is that it can help organisations to increase operational efficiency, which saves time and money while improving employee experience through improved analysis, automation and better collaboration in resolving problems. AIOps can significantly reduces the number of outages in your operations.
To find out more about how AIOps can help you please download the free eGuide below: